Google and Amazon finally have come to a mediation; very soon you will find:
#YouTube officially available on #FireTV
#PrimeVideo available on Chromecast.
#Amazon (USA) finally starts selling #Chromecast https://t.co/gpmshaHwth
#Amazon is offering developers in India, a FREE #PlayStation4 if they develop an #AlexaSkill which more than 500 unique customers enable & use in the first 30 days of publication with min 4 star review by 5 or more reviewers as on 31 Dec, 2018 https://t.co/am8AZRj5i1
#Apple partners with #Amazon to officially sell its products in India, US, UK, FR, Germany, Italy, Spain, & JP - w.e.f 4-Jan-2019, only Apple-authorized sellers will be allowed to sell Apple & Beats products on Amazon. Caveat, Amazon won't list #HomePods, which compete with #Echo
Amazon has launched the #NewKindlePaperwhite in India for ₹12,999 (Thinner, Lighter, 2x the Storage, and Waterproof) #Preorder #Ships14Nov https://t.co/DK8IpjGpOS
Amazon launches:
#EchoDot 3rdGen fabric finish $49.99
#EchoInput (no speaker) $34.99
#EchoSub (subwoofer) $129.99 (India ₹12999)
#EchoLinkAmp amplifier $299.99
#EchoPlus 2ndGen $149.99 (India ₹14999)
#EchoShow 2ndGen $299.99
#EchoAuto for Cars $49.99
#EchoWallClock $29.99
Now you can convert your Payback points or Citibank rewards points to Amazon gift card - Redeem points here (link)
Amazon.in: Shop with Points | Amazon Pay Gift Cards: Gift Cards
Online shopping for Shop with Points | Amazon Pay Gift Cards from a great selection at Gift Cards Store.
amzn.to
Amazon India launches monthly subscription for #PrimeMembership at ₹ 129 per month while a yearly membership will continue to cost ₹999 @AmazonIn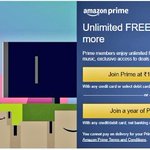 Load More...